Just as a bunch of other girls, I have decided to participate in the Girly-Girl Nail Art Challenge that was created by Lindsey from
Neverland Nail Blog
. It's going to be a four week challenge with a total of eight manicures. I think this is do-able for me, even when I'm lacking time now and then. Same as the others, I'll try to post my manicures on Tuesdays and Thursdays.
So, today is Tuesday and thus, the first day of our challenge. "Think Pink" requires us to wear a pink polish and some nail art. I'm going to try to incorporate this challenge into my plan on only using polishes I haven't worn yet. For todays mani, I chose a polish I own for approximately 9 months and still hadn't used: OPI
Play The Peonies
. It's a really light, delicate pink, but it's the kind of color I really loved in my teens. I only own a mini version of this color, so I layered a pearl white underneath... yeah, stingy. :D
Then, I created a ruffian with an charcoal grey glitter polish I mixed for this purpose using essence
Glitterastic
and a grey polish from Japan.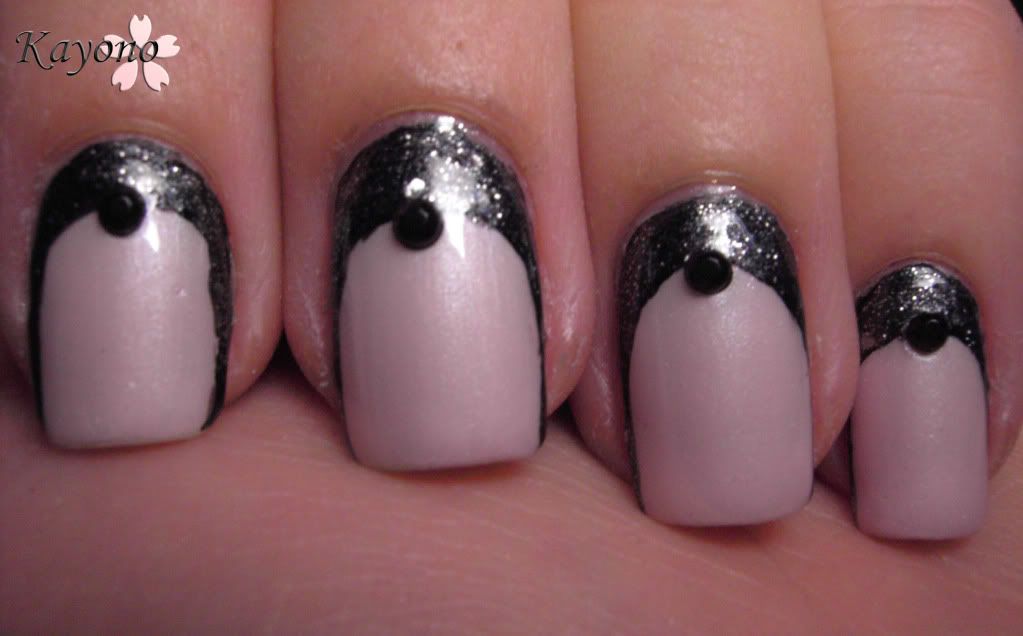 I topped it with two coats of essence BTGN Top Sealer and placed some black rhinestones before it was completely dry.
I'm still wearing this mani, but lost all of the rhinestones but one. :D Looks weird without them. I really like
Play The Peonies
, but I think I can't wear this one on its own as it doesn't go well with my skintone.
Also, my hands hate me this week. I wore gloves and loads of moisturizer the night before I took these pictures and they still look this dry...
Please check out everyone else who is participating: